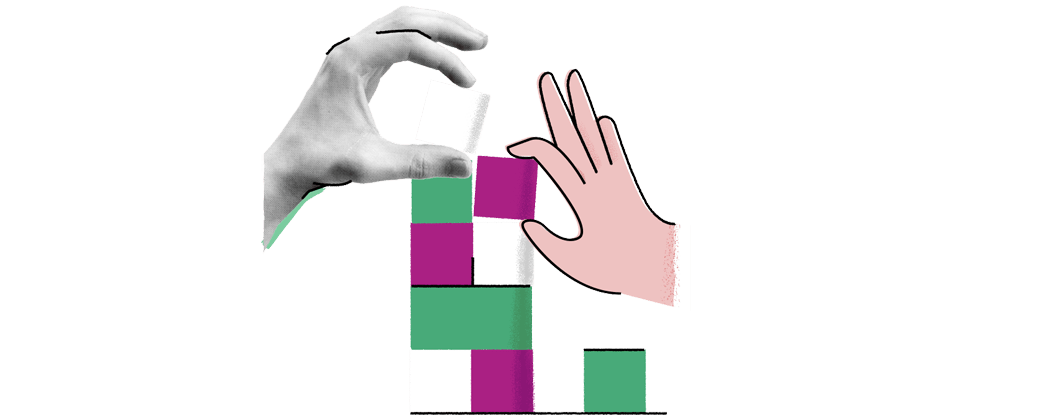 Integrated care: treatment
Minddistrict co-creates integrated care pathways with every health care service. There are three basic digitally-enabled care pathways across primary care, IAPT step-2 and step-3.

For Liam this means that he can access self-help without the guidance of a therapist (pure self-help). For Emma this means that she works on her wellbeing online whilst her therapist Rhona guides her along the way (guided self-help) and for Jamal & Jane that means they see their therapist Akin and Becca face to face whilst working on their wellbeing online (blended).

Pure self-help
Liam chooses the self-help modules he wants to work on from the self-help library on the platform. If desired, Liam's progress can be tracked via the dashboard. He goes through the sessions at his own time and pace, without the apparent guidance from a professional, hence therapist involvement is minimal to none.
Research shows that online self-help is effective and cost-effective with, amongst others, depression and anxiety disorders. Customised interventions have shown to be more effective than standardised treatments.

Guided self-help
Emma is guided by her therapist, Rhona. Rhona's role is to guide and monitor Emma's progress on all active interventions. On the platform, Rhona assigned Emma a treatment module and she receives tasks to provide written feedback on Emma's completed sessions in the modules. On average, Rhona spends 15 minutes on writing Emma's feedback and can be a-synchronically available via the conversations function on the platform.
Several studies have shown that this form of online intervention is as effective as traditional CBT in the treatment of, amongst others, depression and anxiety disorders. Online guidance appears to increase the effectiveness of online self-help, in part due to due to greater adherence.

Blended care
Jamal accesses the treatment modules and self-help trainings on the platform, but he receives extra support and guidance from his therapist Akin via any of the following options:
Traditional face to face sessions
Traditional group sessions
Video sessions or group video sessions
Live chat or live groups chat sessions
Research shows that both patients and professionals see blended care as a positive development as it sparks patients' self-management. When asked about the optimal distribution of the therapy, respondents indicated that practical therapy components such as homework assignments, psycho-education and diary registration are especially suitable for online implementation. The process-related components of therapy are best done face-to-face according to the respondents. For the treatment of work-related stress, depression, panic disorder, eating disorders and post-traumatic stress, blended treatment appears to be both effective and cost-effective.

Blended-group
Jane is doing 6 weekly group sessions to combat her loneliness by putting her in contact with others experiencing similar difficulties. In between the group sessions, she works on training and modules on the Minddistrict platform. These online sessions are discussed during the group sessions, which allows Jane to share her online work with the members of the group. She feels supported.